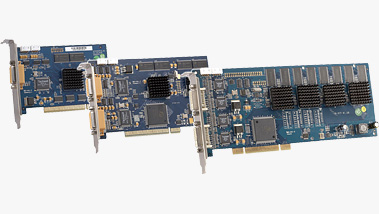 Overview
F series compression card using TI TMS320DM642 DSP chip, loading the H.264 algorithm - a real 4*4 DCT transformation; 1/4 pixel motion estimation for increasing accurate motion compensation and greater coding gain; with superior stability, excellent image quality, and a high compression ratio.

Features
H.264 compression algorithm with high compression ratio and excellent image quality.
Realtime video and audio synchronous compression with no frame loss.
Supports 4CIF realtime preview for up to 64 cameras (VEC0404F supports up to 32 cameras).
Supporting multiple resolution recording: 4CIF, 2CIF, CIF, QCIF; and supports 4CIF recording with 12fps (PAL)/15fps (NTSC) for all channels.
Dual encoding streams supported for flexible network transmission.
Supports variable bit and frame rates.
Provides full SDK and demonstration with source code.
Smart video detection: Motion detection, defined motion areas, camera blanking, video loss.
Smart camera settings: Privacy masking, camera lock, color setting, and title display.
Supports OSD, LOGO, and MASK Overlay.
Supports Windows 2000/XP/2003/Vista and Linux operation system.
Complies with PCI 2.2 standard.

Application
Recommended installation areas are Securities Companies, Change Booths, Casinos, Pawnshops, Jewelers, Galleries, Exhibition Halls, Department Stores, Convenience Stores, Discount Offices, Hospitals, Police Stations, Subway Stations, Airports, and Banks etc.
Explanations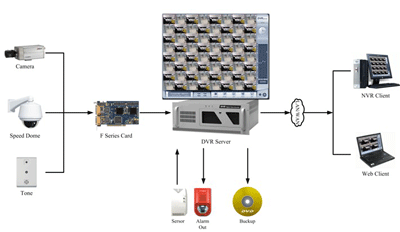 Model

DH-VEC1604F

DH-VEC0804F

DH-VEC0404F

General

DSP Model

TMS320DM642

PCI Standard

PCI 2.2

Video

Video Input

16 channels

8 channels

4 channels

BNC, 1.0Vp-p, 75?

Video Standards

PAL(625 Lines, 50f/s), NTSC(525 Lines, 60f/s)

Preview Resolution

4CIF, realtime

Video Compression

H.264

Recording Resolution

16-ch 2CIF/CIF/QCIF realtime, or 8-ch 4CIF realtime, or 16-ch 4CIF not realtime

8-ch 2CIF/CIF/QCIF realtime, or 4-ch 4CIF realtime, or 8-ch 4CIF not realtime

4-ch 2CIF/CIF/QCIF realtime, or 2-ch 4CIF realtime, or 4-ch 4CIF not realtime

Video Resolution

Format PAL NTSC

4CIF (D1) 704*576 704*480

2CIF 704*288 704*240

CIF 352*288 352*240

QCIF 176*144 176*120

Dual Stream

Supported

Video Recording

PAL: 1f/s~25f/s, NTSC: 1f/s~30f/s

Bit Rate

32Kbps~4Mbps

Stream Type

Video stream or Video and Audio stream

Video Display Split

Full and multiple screen display, 1/4/8/9/16/25/36/48/49/64

Audio

Audio Input

16 channels

8 channels

4 channels

BNC, 200-2800mV, 30KΩ

Audio Compression

PCM/ADPCM, 8bit/8KHz or 16bit/8KHz

Audio Output

32Kbps

Environmental

Operating System

Windows 2000/ XP/2003/Vista, Linux

CPU

Intel

Motherboard

Based on Intel chipset

Memory

256MB or above

Graphics

NVIDIA, AMD-ATI independent graphics cards, memory 64M or above, or onboard integrated Intel graphics

Power Consumption

11W

7W

3W

Working Temperature

-10℃~+55℃

Working Humidity

10%~90%

Atmosphere Pressure

86kpa~106kpa

Dimension

257mm*106.6mm

182.5mm*106.6mm

152.5mm*93.2mm